In late 2021, Ultragenyx team members celebrated a milestone in the construction of our new gene therapy manufacturing facility in Bedford, Massachusetts. This "shell ceremony" marked the completion of the building's exterior, and the start of the next important phase of the construction of the 100,000 square-foot facility. As we pause to reflect on the journey we've taken together to get to this point, it seems like a good opportunity to review the past, present, and future of this facility and our Gene Therapy organization.
Why Bedford?
Our team reviewed locations and plans for more than one hundred other facilities before deciding to build a new manufacturing plant in Bedford. Ultragenyx already has substantial operations in the region, including our pharmaceutical development and quality control facilities in Woburn, Massachusetts, and our gene therapy headquarters in Cambridge, Mass. We now have over 250 Massachusetts-based employees, and the new facility in Bedford is expected to bring on more than 100 additional full-time local employees.
We place a strong emphasis on being a good neighbor and are actively seeking opportunities to give back, from sponsoring local food drives, to supporting a biochemical genetics training program through Boston Children's Hospital and Harvard Medical School, to our partnership with Middlesex Community College that helps train the next generation of the local biotech workforce.
Why build a new manufacturing facility?
At present, Ultragenyx uses contracted pharmaceutical manufacturing facilities to produce the gene therapy products we're developing. While we expect to continue using contracted manufacturing at some level, integration of our gene therapy research, development, and manufacturing will streamline and accelerate the process and ensure we meet the urgent needs of patients facing rare diseases.
Having our own gene therapy manufacturing plant in close proximity to our research and development sites will enable us to get medicines to patients faster
"Having our own gene therapy manufacturing plant in close proximity to our research and development operations will enable us to get medicines to patients faster and more efficiently," said Dennis Huang, executive vice president and chief technical operations officer at Ultragenyx.
"We have one of the largest gene therapy portfolios in the industry, and I'm excited to see how much more we will accomplish with our new manufacturing facility here in Bedford."
Our gene therapy platform today
Ultragenyx has a robust clinical-stage gene therapy pipeline, with three candidates in pivotal studies and others in earlier-stage development. At the core of our proprietary gene therapy platform is our clonal Producer Cell Line (PCL) technology. As the only clonal adeno-associated virus (AAV) manufacturing system, we have engineered PCLs that stably produce high yields of viable, intact AAV vectors, while maximizing the production of full AAV capsids.
This PCL platform has made Ultragenyx an ideal partner for gene therapy manufacturing – Bayer is using our clonal PCL platform to produce its hemophilia A gene therapy at a 2,000-liter scale; Solid Biosciences is partnering with us to advance new AAV-based gene therapies for Duchenne muscular dystrophy; and our team recently completed a major technology transfer under a partnership with Daiichi Sankyo.
The future is taking shape
Construction of the new facility was announced in November 2020, and completion of the core and shell of the facility was achieved in September 2021 – four months ahead of schedule. Given the challenges presented by the global pandemic, reaching this milestone so quickly is a testament to the dedication of our team, our construction partners, and the support of the Town of Bedford and the Commonwealth of Massachusetts.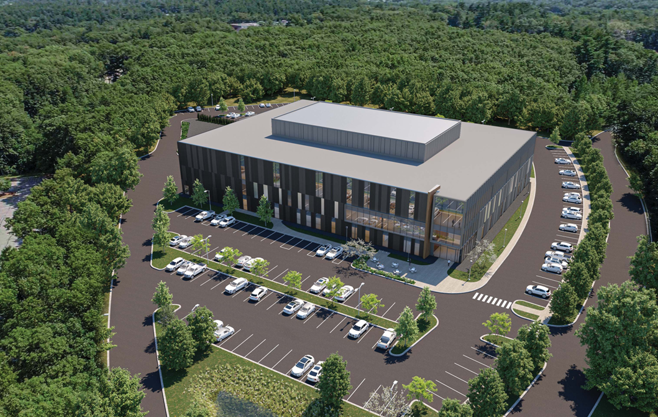 The Bedford facility will begin operations in 2023 and will provide important internal capacity to develop and manufacture supply of Ultragenyx's gene therapies for both clinical-stage and approved products. Ultragenyx has also secured land and development rights for an additional 86,000 square feet of expansion space to double on-site capacity if needed.
Help us lead the future of rare disease medicine
Ultragenyx is hiring for its Gene Therapy organization! If you want to have a meaningful impact, do the best work of your career, and be in a leading-edge environment that is focused on the needs of the rare disease community, click here to see our open positions in the Greater Boston area and worldwide.
Thomas Lauzon is vice president and site head of gene therapy manufacturing at Ultragenyx.